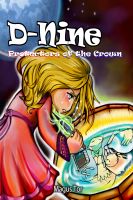 Disclosure: I got this product as part of an advertorial.
I read
D-Nine
in exchange for honest review from Tomoson. The book was written by Magnus Tor. The book is currently free on Smashwords.
About the book:
What if you wake up one day and found out that you are of the opposite gender?
James is suffering from bouts of headache and the latest one gives him an experience of a life-time. He gets to become a girl but it comes with a price, his or rather her life is in constant danger as assassins hunt after her. He needs to find out who is behind this before his and her life becomes forfeited. In the midst of adventure he also needs to face with another difficult situation, love from another guy. Will he survives the conspiracy or death is a welcome solution to his forbidden love.
My Review:
The book was a good read. I wanted to review the book because the description sounded interesting. The book starts out with James having a headache and he pops a few choice pills to relieve the pain. When he awakes, he is in the hospital and bouncing back and forth in a dream state, where he is the royal highness. James is clueless to what's going on. He is in a new time with a new name and chambermaids.
James is also changed into Princess Sarabeth. James/Sarabeth's life is in danger and he/she has to leave the kingdom quickly for protection. No one wont tell him what's going on because they think her memories will return, but James only remembers his former life as a Dr.. Then James moves back into the real word and then back into fantasy land. This provides a synopsis into the first 20 or so pages.
I was hooked. In one world, the main character is a male physician and in another, a princess, surrounded by danger because she is next in line to ascend the throne.
Check out the book on Smashwords
Stacie
I received one or more of the products mentioned above for free using
Tomoson.com
. Regardless, I only recommend products or services I use personally and believe will be good for my readers.